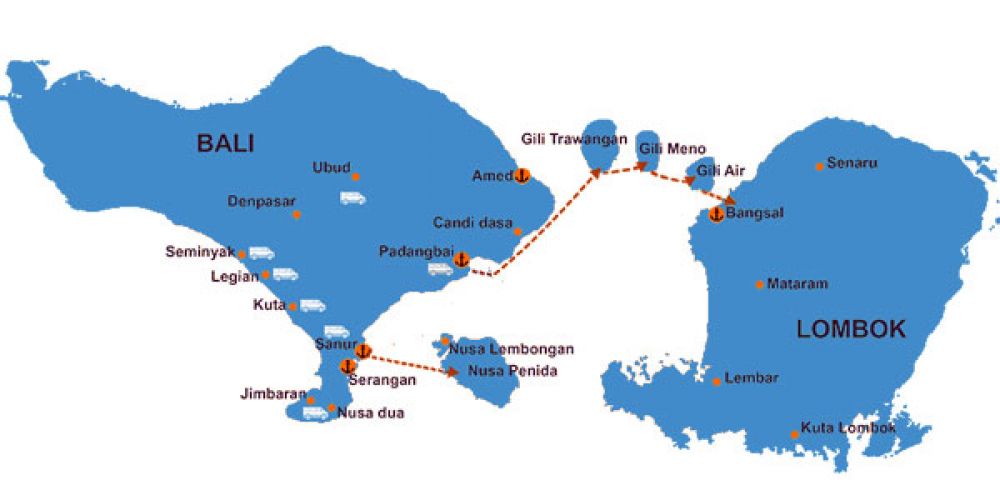 Bali eastern neighboring island of Lombok is now become more famous for its Islands hopping adventures. While the three sister islands become too popular, Lombok is found very attractive by some tourist for its beautiful isolated beaches, majestic Mount Rinjani and many untouched places.
The best way to reach Lombok from Bali is via fast boat from Padangbai Harbour. Padangbai is small sleepy fishing village located in the eastern Bali close to Candidasa, about 54km from Denpasar the capital of Bali. It is connected Bali to other islands such as Gilis, Lembongan, Nusa Penida, Lombok, Sunda and many others. It takes about 90 minutes to get to Lombok from this popular spot.
Fastboat also departing from Serangan Harbor to Lombok. This route takes longer yet it will comes with very interesting opportunity to see neighboring small popular islands from Bali, Nusa Lembongan & Nusa Penida. Through this point, the trip to Gili Trawangan will takes 2.5 hours.
Here's everything you need to know about how to get to Lombok from Bali on budget friendly way Ostina Fast Boat.
Fast Boats from Bali to Lombok:
Ostina Fast Boat, Eka Jaya Fast Boat (Partner)
Schedule:
Available dates and times are displayed during booking