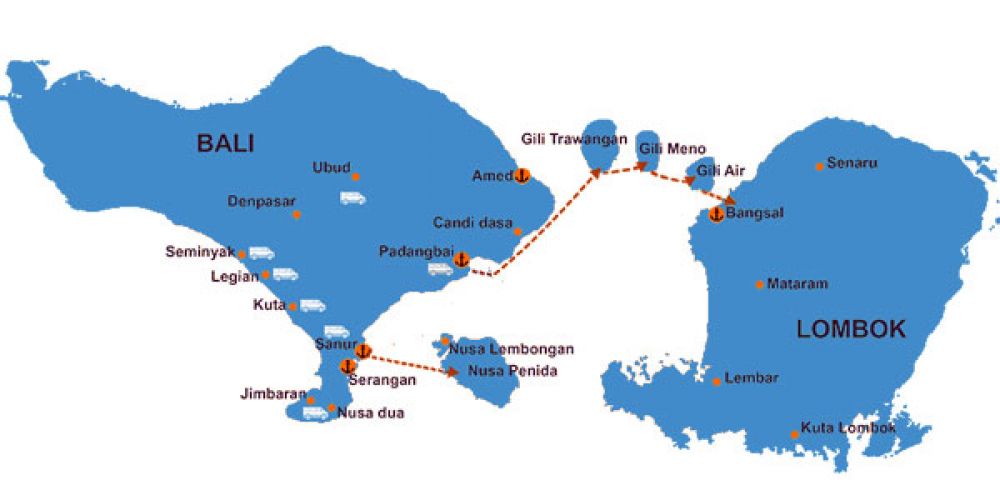 Being the smallest Meno is also the quietest, under developed secluded island. It has the best underwater life and spots to hit the sea. Gili Meno is very peaceful and suite to Honeymoon island escape. Away from hassle found yourself in the gorgeous beaches, Meno is the place!
The best way to reach Gili Meno from Bali is via fast boat from Padangbai Harbour. Padangbai is small sleepy fishing village located in the eastern Bali close to Candidasa, about 54 km from Denpasar the capital of Bali. It is connected Bali to other islands such as Gilis, Lembongan, Nusa Penida, Lombok, Sunda and many others. It takes about 90 minutes to get to Gili Islands from this popular spot. The Fast Boat is departing from Padangbai to the main Gili island of Trawangan then the smaller boat will take the passengers another 15 minutes off to Gili Meno.
Fast boats also departing from Serangan Harbor to Gilis. This route takes longer yet it will comes with very interesting rare opportunity to see neighboring smaller popular islands from Bali, Nusa Lembongan & Nusa Penida. Through this point, the trip to Gili Trawangan will takes 2.5 hours.
Here's everything you need to know about how to get to the Gili islands from Bali on budget friendly way Ostina Fast Boat.
Fast Boat from Bali to Gili Meno:
Eka Jaya Fast Boat
Schedule:
Available dates and times are displayed during booking